Rustic home decor ideas to create a warm and inviting space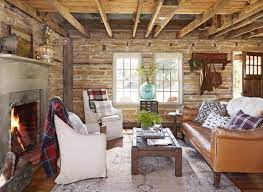 This rustic decor list will help you create a homely and vintage charm.
Rustic style interior design is one of many that emphasizes the beauty and inspiration found in nature. It also features earthy, imperfect, rough, and uneven textures. Rustic designs may have appeared heavy at first, but they've evolved to encompass other styles of home that add warmth, comfort, and freshness to any room.
You can incorporate rustic decor into your living room, bedroom, or balcony. It is also an excellent option for the kitchen. This is one of the styles most commonly used in modern homes, as it strikes a balance between elegance and authenticity.
Rustic style is characterized by unfinished wood, natural textures, neutral and earthy colors, handmade signs, chalkboards in black or white, large to medium windows, and stains that enhance the wood. Overall, the rustic style is outdoorsy, woodsy, and straightforward.
What are the different types of rustic home decor?
Rustic home decor comes in many different types, depending on the personality and preferences of the owner. However, the theme is always homeliness. You can find them in the following:
Country Rustic Decor – Organic and relaxed, with rougher edges and older than farmhouse rustic. Light and airy, antique furniture.
Farmhouse-Rustic Home Decor- Blocky furniture, elements and furniture, traditional feel with a more modern look.
Modern Rustic Decor – Tough, with equal emphasis on form and function, industrial-looking metal elements, exposed stones, undressed curtains or drapes, and lightly dressed curtains.
Rustic Industrial Home Decor- Man-made meets Nature, Rural meets Urban, Weathered and Old meets sophisticated and Industrial, Wood, Glass, Brick, and Metal finishes, Exposed Screws, Sharp Angles and Geometric Patterns, Industrial Lights, Cohesive and Solid Look
Western Rustic Decor – Handmade and regional pieces, Native American patterns, colors and patterns, light colors, spaces with openness, leather accents or as fabrics/upholsteries, leather in fabrics/upholsteries, and leather in materials/upholsteries.
We'll now explore some rustic home decorating ideas you can use to create a new look for your sanctuary.
Modern Rustic Decor in a Living Room
This modern rustic theme will add a touch of sophistication and coziness to your living room. The rustic grey wallpaper makes the room textured, while the white TV unit and bookshelf are the perfect complements. The accent wall is a grey wallpapered accent that adds just the right amount of edginess to the room without being too over the top. Indoor plants give the space a natural, earthy vibe, and they are beautifully complemented by the framed artwork. Sleeper sofas are an excellent addition to any room. They give it a warm, welcoming feel and provide extra sleeping space. This is perfect for those who enjoy entertaining guests. The sleek floor lamp and pendant lights make this living room even more elegant. A muted gray rug completes the look.
An Industrial Rustic Home Office
Working in a boring, dull corner of your home can be demotivating. This rustic wall decor for your home office will give it a fresh feel. This exposed wall will give your home office an outdoorsy feel, allowing you to enjoy your time at work. A work desk with industrial grey and light wood laminates is created in the corner, near a source of natural lighting. A wall-mounted unit, with open boxes and closed-shutter shelves to store stationery and documents related to work, completes the workstation. The navy blue daybed adds a pop of color to this industrial-style setup while also providing a place for relaxation during breaks. The tall metal rack in industrial style is ideal for stacking up books or adding decorative elements to the room. Another rustic office element is the grey wooden loft with two hanging pendants.
The Rustic Balcony: A Cozy And Peaceful Setup
Try using the balcony if you don't want to dedicate a room to it and want to add a rustic touch to a small space. This rustic country balcony is perfect for small apartments. This charming little balcony is full of old-world charm. Here you can meditate or read your favorite book. The brick wall is unfinished and gives it a classic look. Open wall shelves provide the room with a modern touch. The brackets can display decor items, photo frames, and small plants. We've created a colorful bench that has hidden storage and seating. Potted plants add a natural feel to the balcony.
Enjoy a Wilderness Experience With This Rustic Kid's Bedroom Decor
This jungle-themed children's room looks like it came straight from a book! The wooden ceiling and exposed brick wall perfectly combine rustic and modern home decor elements to give the room character. Your child will love the stylish white wooden tent bed as much as playing on the rug that looks like green grass. The wallpaper behind your child's bed gives the impression of being in the forest and brings nature into the bedroom. The brick wall has floating shelves and a desk with a chair to encourage studying. A ladder-style wooden rack, a dark and white wood wardrobe, and ample storage for clothes and toys are provided by the two. The grey hammock finishes the playful look of this little room.