Decorate your home with DIY Holi decorations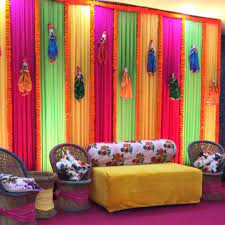 The Festival of Colours is around the corner. Celebrate the arrival of spring by decorating your home in vibrant colors and bringing eccentric energy into it.
You probably haven't decided how to decorate your home for the colorful festival. You've come to the right spot. Here are some Holi decorating ideas to help you have the most fun ever. You can enjoy colorful bedsheets, curtains, pillows, aromatic candles to create an ambiance and fairy lights. If you're looking for colorful Holi decorations to decorate your home, this article is for you. We can help you decorate your house with our DIY Holi decorations!
Colorful cushions and curtains will add color to your living room.
Makeover your living room to create the perfect festival mood. Your living room will be your guests' first sight, so it must look great. You can decorate your living room with cushions, beautiful upholstery, and curtains ( or even ones made of sarees). Also, you can hang fantastic artwork on the walls. Is it not enough? Place colorful crystal bowls on your center table to highlight your Holi decorations. Bring vibrant colors to your living room by adding wall hangings, floral motifs, colorful motifs, and bright carpets.
Balcony Decorations For Holi: Quirky Ideas
If your house has a balcony, you're in luck. There are many ways to decorate it. Paint flower pots, and add a rug and fresh flowers to create a happy atmosphere. If you're looking for more creative Holi decor, consider hanging woven garlands made of Marigolds Rajanigandha and Champa. The easiest way to dress up your balcony is to use paper buntings. They are simple to make.
Tablescapes with Colourful Tablescapes for DIY Holi Decoration
Why not decorate your dining room with style for Holi this year? As shown in this picture, you can hang mythological and traditional artwork on the wall. It transforms the atmosphere in an instant. Lighting can be provided by paper lanterns hanging from the ceiling. Decorate your dining room table with colorful accents like candle holders and multi-colored vases. You can create a beautiful table design by placing tiny cups of Holi color.
Include Your Lawns And Patios For Holi Decoration
Holi is a festival usually held outside on patios, balconies, and terraces. Your lawn will be ready for the celebration with hanging flower pots and string lights. You can also fill buckets of gulal in different colors. Make a canopy of colorful dupattas to protect yourself from the scorching sun.