Use a high-pressure washer to clean concrete and driveways.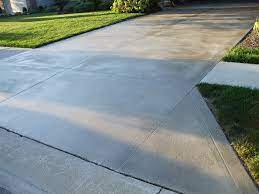 Are you looking for a way to clean dirt and grime from concrete pathways, patios, and driveways? A high-pressure washer can remove grease, oil, dirt, and most stains. You can remove years of wear and tear from concrete in just minutes.
A high-pressure washer can not only remove stubborn stains and dirt, but it can also eliminate bacteria and fungus from your driveway and paving.
These are 10 tips that will help you achieve the best results when using a high-pressure washer.
1. Use a pressure washer with a minimum rating of 2500 PSI and a flow rate of 11-12 litres/minute to eliminate tough stains. Even if you've used a pressure washer before, it is important to read the instructions before you start.
2. Begin by cleaning the concrete surface of any dirt, dust or debris. The washer should be able to tackle the difficult-to-remove materials.
3. Cover any exterior walls or doors with plastic sheeting. It will protect them from flying debris and accidental paint removal.
4. Spray concrete with a degreaser to deep clean it. Keep the sprayer at a distance of approximately 15cm from the surface. If your pressure washer comes with an attachment tool or stiff brush, scrub the concrete with the degreaser. ( See also 'Last words to advice' below for more information on cleaning surfaces.
5. Use the spray wand and tip to apply detergent to the concrete. Protect your hands with gloves and spray detergent by holding the spray handle down. Keep the sprayer at a constant distance of 30 cm from concrete. Smoothly move the wand around, overlapping each stroke slightly. Allow the detergent to sit on the surface for five minutes.
6. Allow the detergent to sit for five minutes unless otherwise instructed. This will ensure that all grease and dirt are well and truly removed.
7. You can use your pressure washer to scrub the surface until you have removed all grease, oily deposits and grime. Continue working your way around the surface, crossing each stroke.
You can use your high-pressure washer to clean the surface until any traces of oil or grease are gone.
8. Do you need to remove paint or other tough stains? Move slowly and hold the tip at 10cm above the surface.
9. Use a roller brush to apply the waterproof sealer to concrete from the middle to the edges.
10. You must wait 24 hours before you park your car on the surface.
–
Do you have any last words of advice?
You can add extra components to your high-pressure washer models to make it easier to clean larger areas and more difficult surfaces.
Turbo heads/ turbohammernozzles/ power-speed nozzles

. This nozzle produces a zero-degree spray that travels in a larger circle at 3000 revolutions per minute. The water jet spins at multiple angles and quickly breaks down any substance. Turbo nozzles can significantly reduce cleaning time. This is a popular choice for concrete/paving cleaning to remove moss, mould and stains, paint, etc.

This commercial surface cleaner

is designed to driveway cleaning in gold coast, floors, large paved areas and warehouse floors. It's easy to use, leaves little splash (ideal for buildings, shops fronts, and paths), and has an ergonomic design. Similar to turbo nozzles but with less splash.