The seven most stunning Exposed brick wall decor ideas for an Envious Home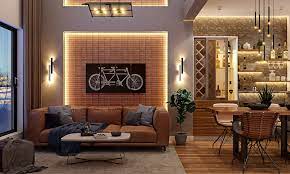 Beauty is in the eye of the beholder. Maybe that's why the exposed-brick interior has been described as a timeless style, a quirky feature, or even an eyesore. This type of interior design is still popular among homeowners despite its flaws.
Exposed brick decor can be a work of art in and of itself. It's perfect for minimalists. It is ideal for Scandinavian, industrial, vintage, cottage, and urban loft interiors. It does not always require extra adornment. Here are some brick wall decorating ideas to make your walls more interesting.
White Brick Wall Decoration Tips for Living Room
Some people may find the brick wall too rustic. White brick walls are a great alternative. This adds softness to the room. In the picture below, we used a multipurpose TV unit customized with a study desk and bookshelf attached. The unit's light wood laminate creates a vibrant contrast. The TV is wall mounted, and two floating shelves are added for extra storage.
This home is a masterpiece with its combination of wooden panels and black brick walls. The living room is visually appealing because of the contrast in colors. The floating TV unit in bright yellow with drawers can be used to conceal any messy items you don't want on display. Speak to our designers if this half-and-half style of exposed-brick wall decor appeals.
Study Zone by the Brick Wall
The exposed brick wall has become the fastest way to create an accent wall in the age of accent walls. This apartment's makeshift work/study area is decorated with red brick walls. The minimal accessories accentuate the industrial style. The other elements are complemented by a black metal desk and wall shelves with three layers similarly. This gives the room a modern, edgy feel. A modular bookcase has been placed with hidden storage. On the bottom, four seamless drawers keep things neat and organized. A potted plant has been established to add a pop of color.
Decorative Brick Tiles for Bathroom Designing
Using white wall tiles with brick patterns is nothing new for bathroom designs. You can use these brick-patterned wall tiles to create various looks. You can take inspiration from the bathroom in the picture. This is the definition of a luxury bathroom. This bathroom has a unique look thanks to traditional white wall tiles and decorative half-moon-shaped tile chips painted in midnight blue. The floor tiles are patterned in the same colors and complete the look. This is a great idea to try at home.