5 Easy Ways to Incorporate LED Lights to Brighten Up Outdoor Spaces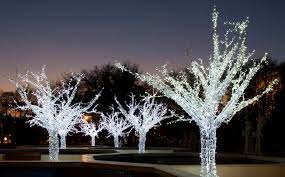 Hanging out in the backyard can be a fantastic way to enjoy the fresh air and admire the scenery before your eyes. The outdoor space should be optimised for comfort and, most importantly, enjoyment. Brightening up the patio, balcony, etc, creates an engaging atmosphere that you can only dream about. LED lights are the most energy efficient light bulbs and really pack a punch when it comes to ambient decorative lighting. Many of the decorative light options on the market can be installed without an electrician and make for a fun DIY weekend project with the family! Stumped for ideas on how to transform those dull spaces? Check out our top tips for transforming dull spaces into entertaining areas.
Glowing fairy light trees
A dash of colour here and there immediately transforms the outdoor space, taking it from boring to dazzling. It doesn't come as a surprise that fairy lights are becoming an increasingly popular way to transform outdoor spaces, they come in a range of colours, sizes, and dimming effects, and they won't break project budget either. Solar fairy lights are becoming an increasingly popular addition to yards where a power source isn't within reach. Expand your home's exterior palette with the colour of your favourite sports team or get into the holiday spirit.
Line the Balcony Balustrades
Want to create an appealing balcony or porch? Nothing simpler. Use LED strip lights to line the railings. All you have to do is to attach the strip underneath the railing and run it along the length so that the strip isn't visible. Use ties or hooks if necessary, to secure the lighting. The dark, unused outdoor space will immediately transform into a night-time oasis. It's not necessary to bring in a professional landscaper as these lights are very DIY friendly!
Create Cosy Outdoor Ambiance with Festoon Lights
Hoping to add some character to your entertaining outdoor area, or want to transform the backyard into the ideal gathering place to enjoy with friends and family? You've likely thought of everything from tables, chairs, umbrellas, speakers and possibly even a mini bar fridge, but do you know what will set the mood for the evening? Decorative LED festoon lighting! Festoon lights emit a beautiful warm glow spicing up events as the sun sets and bring parties to life long into the evening. Festoon lighting has become the must have decoration for parties and celebrations this holiday season. There are now a range of options available which cater to spaces of all sizes with interchangeable light bulb shapes, sizes and colours to suit all types of celebrations.
Hang Festoon Lights Over the Swimming Pool 
Instead of adding a water feature or making a fire pit, you should better install festoon lights. You can swim in the dark, not to mention that you'll have a beautiful picture for your Instagram account. Lights can be suspended from trees or hung from the roof, which provides the illusion of the pale light of the moon. If you already have a water feature, such as a fountain, think about doing a special arrangement. Make sure to use low voltage equipment for any installation near or above the pool! Low voltage equipment is not only extra energy efficient, it's actually an Australian legal safety requirement for any installation near water features and pools areas.
Use Garden Tools for Unexpected Lighting Whimsy 
You can use old accessories and garden tools for inspirational decorating. For instance, you can use them as support for the LED lights. If you have a watering can that you don't use anymore, make something artistic. Start getting creative and try new things. LED lights come in a variety of sizes and styles, so you're spoiled for choice. Go to Pinterest and check out all the ways you can decorate with string lights. You'll be amazed. These fabulous lights will make your balcony or porch glow long after the holidays are over. They look fantastic outdoors, not to mention indoors.
With so many innovative ways to brighten up your outdoor space, there's no excuse for a dull entertaining area. Try out one of our top 5 tips from above or take a little inspiration from them and come up with your own way of adding some LED features. Let us know how you go with your own DIY projects in the comments below!