How Do You Make A Good Wedding Playlist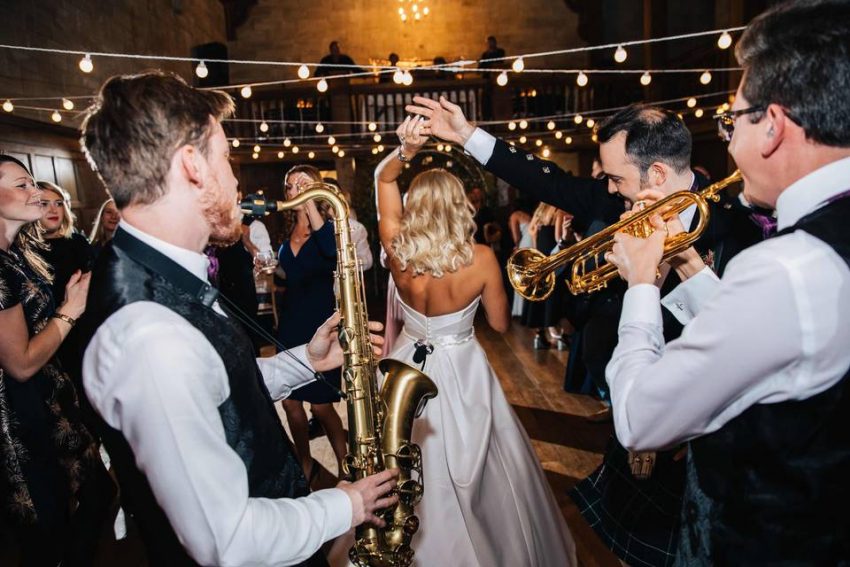 The music you choose for your wedding can reflect the personalities of your bride and groom and the emotions surrounding the day. It may also convey the atmosphere that you want to create for guests.
The first step to musical bliss is finding a reputable vendor (or a friend who loves music). This can range from the opening notes for the father-daughter dancing, all the way through to the last dance beats that serenade the revelers of the evening. It can be overwhelming to choose a playlist.
After a lovely and emotional ceremony, there is no better way for guests to let loose and have fun at the reception. A great music mix will keep the party moving.
Creating the perfect playlist for your reception is not an easy task. You must take into consideration many factors, including the length of the event, the songs you want to play, and the location of slow dances. 
These suggestions will make it easier to plan your wedding reception music for your fun wedding event.
How to Create a Playlist for Your Wedding Reception
Here are some ideas for organizing your wedding reception playlist.
As you note these, be honest about the musical tastes of both yourself and your fiancé. It's not nice to be forced to listen unattractive music on your wedding day.
If you're enjoying the process, it will be easier to prepare for a successful reception.
What is the first choice? You can choose to hire a DJ or band, create your own iTunes playlist or even make one yourself.
When hiring a DJ or band, it's vital to convey a few important details. It's best to give them the creative freedom they need to select music and read the crowd.
Give them the full order of events, so that they are prepared to guide your guests from the cocktail hour through the meal and the dance party using music to set the mood. Talk about the genres of music and artists that you want (and don't want) to hear during your wedding.
It would also be best to discuss any toasts or "dances" that are planned, such as the father-daughter dance, mother-son dance, or bride-and groom.
Many couples choose to be their own DJs by creating an iTunes playlist that will play throughout the ceremony.
This option is great because the couple can choose which songs they want to hear and which ones not. It's a perfect way for them to create a playlist that includes their favorite songs!
It does, however, require more planning. You may want to find a music-lover friend to help you with the song selection, and to be responsible for managing the speakers and electronics on the day.
Even though an iPod is portable, playing music on a laptop can be ideal for a long event. It has more memory than an iPod and allows you to easily add songs to your playlist.
Make sure to add a few minutes for each list of best wedding music in Sydney. Consider including an hour-and-a-half of music in the "dinner playlist" if the dinner portion of the event will last only an hour.
Recognize that sometimes it is a popularity contest
Spotify identified songs frequently added to wedding playlists.
This list does not catch my attention. Hey Ya! Uptown Funk and other fast-paced music are good examples.
These songs like "I'm Yours", "Marry You" and "Say I Do," are extremely sappy, but have a message that is appropriate for a wedding.
John Legend's song "All of Me", which tells how much he loves Chrissy Teigen has also gained in popularity since its release. Who wouldn't like to hear that emotion at their wedding day?
You may think that Pharrell's Happy or JT's Mightn't Stop The Feeling! Even if you think that songs like Pharrell's "Happy" or JT's "Mightn't Stop the Feeling!" have been overplayed, they can take on a whole new meaning at a wedding.
These songs are still good ads, because most of your guests will have heard them. They're also upbeat. These songs will make your guests want to sing or dance, and even younger children love them.
Embrace the Crossover
Rock, country, and pop. Hip-hop. What unites these genres, besides a hit song featuring Nelly?
They may feel at ease with a playlist for the reception. I think that anything goes at weddings. You usually have a wide variety of genres.
It is important to know what makes people happy and dance. It makes sense, then, that you will have a full range.
You and your sorority sister's routine for "Crazy in Love" might be similar to the one that your mum and her friends have rehearsed.
After doing this, you'll wonder how you ever managed to combine Frank Sinatra with Notorious B.I.G. and Dolly Parton. 
Serenade your guests-Even if it's weird
If your eccentric aunt will only travel across the country to perform juju in that beat at your wedding, you must make the best of it.
It is impossible to expect that every song will appeal to everyone. You can however add specific items to your wedding for guests who are travelling long distances.
This is a very loving and significant act. It's a great opportunity to sprinkle in a few songs they will enjoy.
Ask attendees to suggest songs before the event or include a section on the RSVP card for song suggestions.
What songs encourage you to fly your freak flag?
The songs that are most emotional for weddings include Bonnie Tyler's "Total Eclipse of the Heart", Outkast "Hey Ya" and many others.
We recommend listening to music that is upbeat and appealing to people of all ages.
Why not include "Girls Just Want to Have Fun", if it makes your mother happy and she enjoys it?
This song is a favorite of many people. This song is loved by both my mother, and my daughter who is 4 years old.
Do not play any games on your list
Music can affect people's feelings, and we've seen this before. Use caution. If you have a list of "red underlined" names, don't add a song to your playlist.
You don't like to hear the same song played at your wedding. It makes you unhappy, even though everyone else enjoys it.
It's best to avoid any wedding songs that could offend guests.
You do not want to listen to depressing songs or those with inappropriate lyrics. You could invite the entire tee ball team that you coach at weekends, if the explicit tracks are replaced by radio-friendly versions.
There are times when it's more fun to yell expletives than be restricted in stillness.
Everyone should Save the First Dance
You have probably gathered a few jewels in your jam collection, but chronologically only one should be at the top.
Set the mood right away for your dance floor at your wedding. With that tone, it's time to party! Get people to dance.
The opening song will serve as a beacon, leading your guests away their reservations and uncertainty and into a cozy, safe area where they can dab and Dougie for the entire night.
It takes a certain amount of artistry to create the perfect playlist for a reception. This requires grace, taste and preparation. You want to make sure that every single moment is captured.
You should make sure the wedding playlist has something for everyone, whether it's pop-tastic music or classic oldies. Unfortunately, this is a very difficult task.
Share Your Favorite Songs with Your Partner
One of the most romantic moments of a wedding is the first dance between bride and groom. It is the perfect time to play a song that you and your fiancé enjoy.
Do not feel obliged to select a song that your guests seem to enjoy. Select a theme that represents your love for each other.
After the first dance, mix your favorite songs with slower music.
If your reception is longer than three hours, the guests will get tired of dancing.
You and your guests will be able to relax and converse more easily if you add one calming song for every five tracks that are upbeat. Have fun when selecting the songs for your wedding. This is your special day.
Mix up the genres.
Some people may be scared by listening to only Top 40 Rap songs, while others might enjoy Frank Sinatra.
Mix old-fashioned love tunes with current dance hits to get a positive reaction from the audience.
Follow 5 Quick Tracks With 1 Mellow Song
The music must be varied in tempo and intensity. If you only play quick hits, the audience will lose interest quickly.
Imagine it like an oscillating graph that goes up and down. You should gradually build up the crowd before bringing it back down to give them a chance unwind.
Avoid Extremely Depressing or Not Romantic Songs.
We have all heard something on the radio that we thought was romantic. Before realizing that it was anything but. Make informed decisions.
Play the entire Playlist
If you are using iTunes or an application as a wedding DJ, make sure that there are no awkward pauses or transitions. You may need to do this over several hours.
You can solve these problems by using the Wedding Republic's suggestions!
Keep Your musical preferences.
Don't play country music if you dislike it.
You can be uncomfortable with the idea of hearing "Don't Stop Believin'" again. Don't be afraid to share your musical tastes with your partner.
Request songs from friends and family
It is difficult to find more than 120 songs for the wedding reception.
Asking friends and family to provide a list with songs is a great way to reduce the stress on you and your fiancé and to incorporate music that you may not have thought of.
These suggestions can be written down by hand, especially if you are planning a playlist-making wedding party. You may find that you're too busy to speak with everyone one-on-one. You can instead create a playlist that other users can contribute to on your music platform.
Spotify allows you and other users to specify the order in which music will be played. This is one of many platforms which make it easy to create wedding playlists.
Help each other create the perfect music for your wedding.
How to Identify the Wrong Song Selections
Keep in mind that a wedding can be a romantic event. Avoid songs that are derogatory and not romantic.
Keep track of songs that are played at certain intervals. You wouldn't play the Cupid Shuffle during the dance between the father and daughter.
Take out the tracks you don't like from the list of songs that your friends or family have given you.
You don't have to hate all the songs on your playlist.
A great playlist will show the couple's love and taste. We love the music and you'll enjoy the reception.
Playlist
The playlist is now ready. All that's left are the finishing details. Spend 30 minutes listening to music each day to solve any transitional issues.
Avoid uncomfortable pauses between songs. Be sure to arrange the list properly for your reception. As previously stated, every lively song should include one slow song. Place the tracks so that the hype gradually builds up and then fades.