5 BEST FLOORING TIPS THAT WILL TRANSFORM ANY SMALL SPACE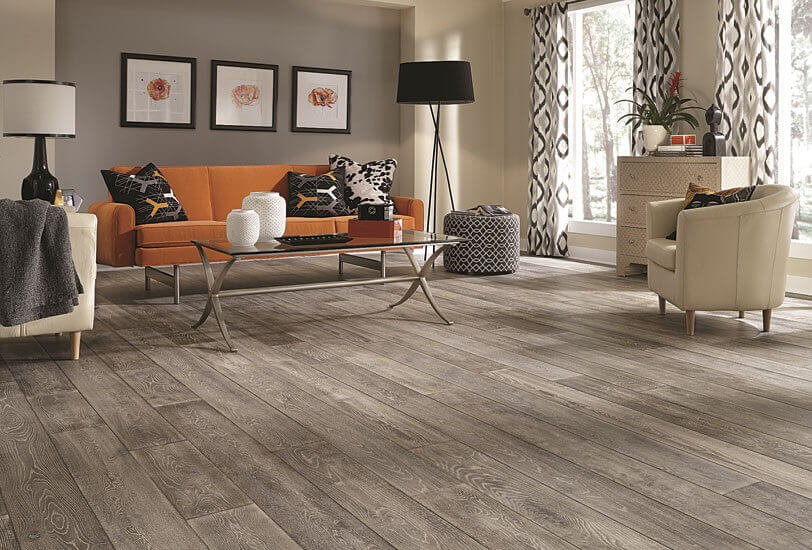 The first thing that people notice when entering a room is the flooring. Decor also plays a role in attracting them.
There are many ways to make your home beautiful, but you should consider the decor before investing in flooring.
Choose wisely and make the most out of your space by following these five tips for interior flooring and décor:
Pick Neutral Colors
Color can make an area feel smaller or bigger than it is.
If you are worried about the size, choose neutral colours for the walls and floors. Use white or gray on small areas to make them appear larger.
It is a great way to add style and interest in crowded rooms.
If you are choosing the color of floors or other elements for your home, remember that the lightest shade is best placed at the top, and darker shades should be used as you move down.
This will make your walls appear brighter, and furniture won't be competing with each other.
The Best Colors For Interior Flooring:
Light gray – This colour has the ability to calm and relax people. Gray is a great color for the bedroom, living room, and dining room. Gray allows more natural light through the windows than any other color, giving you a feeling of spaciousness in confined spaces.
White – is the most popular color for small spaces. It is bright. You can still make changes to your design and decor after a few decades, even if you paint the room white. You won't need to repaint your entire home every time you make changes.
Beige – Beige walls will make a room appear larger and warmer. Avoid colder colors, such as navy or black, unless you are trying to convey a sense of security or sadness.
Taupe – This color strikes the perfect balance between modern and natural. It is not too cold or warm, so it will go with any decor or style you decide to use in your home.
Brown – While brown is a warm color when used as an accent instead of a wall covering the entire space, it helps to showcase art pieces without competing with them for attention, as other colors can sometimes.
Dark – These dark floors look great in bathrooms, kitchens, and entranceways. Black is the perfect color to use when you're looking to make a bold statement or want your room to absorb less light. Darker furniture can make your room appear larger than it is.
Choose The Right Type Of Material For Your Space
.
The classic wooden floor will always be a popular choice. However, you can also install cheaper alternatives, like vinyl, laminate, or tile, that look exactly the same.
You will be able to save money by ensuring that your home is not prone to flooding and moisture problems. It will also make it more affordable for potential renters.
Best Flooring Materials:
Engineered hardwood flooring – This durable option is sure to last for many generations. These are more affordable than other options, as they cost less per square foot. Ask your contractor to install solid wood planks over the engineered planks if you'd like something more natural. These will be more affordable and still sturdy.
Carpeting – Rugs are a popular alternative to carpeting. It's softer and more comfortable than other flooring options.
Laminated Flooring– This option is now much more affordable than when it was introduced. It's easy to switch up the decor when you want a different look without having to spend a lot of money. The floating product is easy to install, as it sits directly on the subfloor. You can also replace one section at a given time.
Tiles – If you are tired of carpeting your hardwood or replacing it with laminate, then consider buying thin tiles. They will be soft and comfortable to walk on while still being attractive enough to withstand repeated cleanings. Maintaining the look of hardwood floors is easy.
Consider Your Floor Plans
When designing to fit in a limited space, don't forget the ceiling heights. This could save you money by preventing you from purchasing more than you need or planning for something which will not fit in the future.
In general, shorter, more compact ceilings are better left bare. Longer, higher ceilings, however, look better decorated. Design your home taking into account the ceilings, the floor plan, and your style preferences.
Choose A Focal Point
.
When you are laying your flooring wellington in nz, add rugs to any room that has furniture that could be used as an accent. This will attract people to the middle of the room.
Also; Change pillows or other items of decor to make your home more exciting.
Add A Mirror
Mirrors can be used to create the illusion of more space in small spaces.
Especially; Place a large wall mirror on any wall that has hardwood flooring throughout the first floor of your house to make it look lighter and larger.
You may not have enough space to store your items.
Hang a mirror tray in the middle of an area rug on both sides. This will create depth visually and bounce light into your room.
Final Note
These five interior flooring and décor tips should help you to transform any small area in your home.
We're confident anyone can transform their living room into the perfect place for entertaining and relaxing. All it takes is a little creativity, patience, and some budget-friendly materials.