5 Areas To Look Out For During Your Move Out Cleaning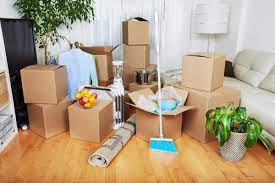 You're moving on to better pastures. Your new apartment is already booked and your old one has been emptied. You're just one small thing away from reclaiming your security deposit. The dreaded move out cleaning in Auckland.
The cleaning must be done perfectly because there is money involved. There are two options: you can either hire a cleaning service to do the job for you or do it yourself.
Remember that you may already be paying for the movers, truck and new security deposit in this month. The financial burden of moving is reduced if you do the cleaning yourself. Here are some areas to consider when cleaning your home to ensure that you get back the security deposit.
Windows
When you leave, your former landlord is likely to check the area around the windows. When cleaning the area around the window, be thorough. Dust and dirt can be found on the tops of frames.
Use a wet cloth to clean the window well. This is the space that exists between the window screen and the glass. To rinse the rag, you'll need to fill a bucket up with soapy water. This is because dirt can buildup in the window well.
Use window cleaner next to clean the glass panes. Then, touch up the frames of the panes. Avoid streaks by working from the top to avoid them on your newly cleaned glass. Then, clean the window sill using your rag. Make sure to also clean the sill's underside.
Vacant Spaces
Cleaning services charge more to clean an empty apartment because there is more area. The spaces that used to be occupied by furniture must now be cleaned. Often, these areas are not cleaned for the duration of your stay in the apartment.
It can lead to a buildup of grime and dirt that needs extra attention. It may be necessary to use a powerful vacuum cleaner to remove the dirt layers that have settled at the base of your carpeting. You'll need to use soapy water on hardwood floors. Use two mops, one for damp mopping and the other for drying.
Floors, baseboards and crown moldings
Continued with the floor cleaning topic, make sure to clean the entire apartment's floor. Dirt can accumulate in some corners of the floor where furniture and end tables once stood. You should also clean the crown moldings and baseboards.
What is crown molding, you may ask? You need to clean it if you asked that question. Crown moldings are opposite to baseboards. Whereas baseboards define the space between floors and walls, crown moldings define the space between floors and ceilings.
It may be necessary to use an extendable duster in order to reach crown moldings. You should make sure to clean the crown moldings, as well as the walls.
Air Vents
You will need to clean your vent covers if your apartment has central heating and/or air conditioning.
It could be expensive to ignore this step. Unattended vents can encourage the growth of airborne contaminants such as mold and bacteria. This could cause asthma and allergies.
It's best to clean the vent caps all at once, since you will likely need to shut off your air conditioner while cleaning. Wear a baseball hat when cleaning vent caps that are in bad shape to keep dust and dirt out of your hair and eyes.
Use a vacuum cleaner or microfiber rag with hose attachment to remove the dust on top. Avoid using any cleaning products or water during this step as they can streak your walls.
It may be hard to admit, but many of us have not cleaned our vent covers in the time that we've lived at our home. In this situation, you'll have to unscrew the screws at each corner of the vent cover. Some vent covers may also slide or pop out.
Fill your sink or bathtub with warm water, and add two tablespoons of detergent. After soaking the caps in water for 15 to 20 minutes, scrub the undersides of the caps using a soft bristle brush. Dirt should easily come off. Let the caps dry out before you put them back.
Upper Areas
During your regular cleaning, you may overlook the top side of many areas. It's important to clean your fridge, cabinet doors, door frames and cabinets when you move. You can use your extendable duster to make this job easier, but a rag and a step stool will also work.
I don't enjoy cleaning ceiling fans. Cleaning ceiling fans can be dangerous depending on the height of the ceiling. We can avoid having to drag 10-foot ladders in the living room, or risking our lives by standing on a stool or chair. Grab your extendable duster instead.
Dusters made specifically for cleaning fan blades are available. The bristles are covered by a ring-shaped shape to clean both the top and bottom blades of the fan.
Bonus Tips: Cover the fan blade before dusting to avoid a dust shower on your head. The dust will fall in the pillowcase rather than your hair when you use the duster to dust the fan blade.
Last but not least, check out your ceiling lights and chandeliers. Use your extendable duster carefully to clean the covers. To be on the safe side, remove the crystals from your chandelier and place them on a towel. It is easier to clean the crystals at ground level, and you don't have to worry about the chandelier falling on your head.
Your apartment will be clean in no time. You will amaze your former landlord when they see the apartment in a better state than it was when you moved in.
You'll be given a check right away as a thank-you for being a good tenant. Be prepared to be begging to stay on their knees. They might offer to halve your rent to keep you. Maybe they won't.